What is Ichomoku Kinko Hyo? According to Wikipedia:
Ichimoku Kinko Hyo (一目均衡表Ichimoku Kinkō Hyō) usually just called ichimoku is a technical analysis method that builds on candlestick charting to improve the accuracy of forecast price moves. It was developed in the late 1930s by Goichi Hosoda (細田悟一Hosoda Goichi), a Japanese journalist who used to be known as Ichimoku Sanjin, which can be translated as "what a man in the mountain sees". He spent thirty years perfecting the technique before releasing his findings to the general public in the late 1960s.

Ichimoku Kinko Hyo translates to 'one glance equilibrium chart' or 'instant look at the balance chart' and is sometimes referred to as 'one glance cloud chart' based on the unique 'clouds' that feature in ichimoku charting.
This indicator has 6 components. They are:
Tenkan-sen
Kijun-sen
Senkou span A
Senkou span B
Kumo
Chikou span
Ichimoku factors in time as an additional element along with the price action, similar to William Delbert Gann's trading ideas. (click the link for more about William Delbert Gann's Method)
Popular in Japan, ichimoku is gaining traction in the west through proponents of its charting accuracy.
In this article, I will not explain to you the detail about Ichimoku's indicator, but I just share my own technique about reading this indicator or my own trade.
The Requirement
Use only on USDJPY (Dollar vs Yen)
Use only on 30 minutes (M30) time frame
Use DEFAULT option/parameter
Analize on "no news" market time
The Graphic and Decission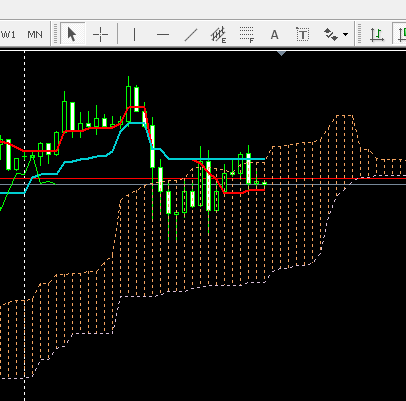 The graphic above is showing when to trade BUY/LONG. When the candle confirm on above position of BLUE line, AND the candle above the ichomoku's cloud, I will BUY/LONG.
Here is more detailed analytic for Ichimoku indicator if you want 99% accurancy:
There are 3 confirmation before SELL/SHORT. I will not describe that graphic. You do your own analyzing from mine.

Buy only if the price position upper the Ichimoku cloud in all chart!
Sell only if the price position under the Ichimoku cloud in all chart!
DO NOT buy when one of the chart showing the price under Ichimoku cloud, also DO NOT sell when one of the chart showing the price above the Ichimoku cloud.
At the picture above, I WILL NOT buy or SELL, because the price is not exactly under or upper Ichimoku cloud in all chart time frame. Remember: Follow the trend, do not counter the trend. Except you are a big player with Billion Dollar to move the price by your trade.
My Ichimoku Kinko Hyo – Reading Technique