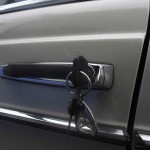 Here I share my "Do it your self" (DIY) with complete pictures about fixing my young timer car, Mercedes-Benz W123 280 1979 lock that stuck and can not rotate to lock and unlock. You just need several tools. Here are the preparation:
WD-40 or other spray grease.
Any carburetor cleaner.
Screwdriver.
L-Key, I don't remember the number, just prepare yours.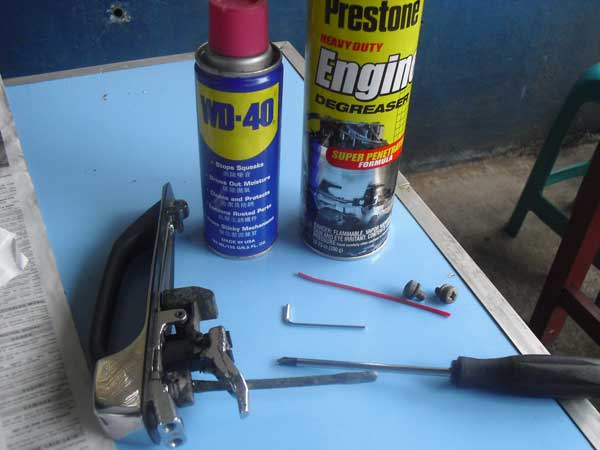 Now, follow the instruction one-by-one from removing the door lock handle until put back the door handle.
1. Locate the two bolt on the side of the door. Open the rubber and you will find it.
2. Move forward the door handle and pull it out from the door.
3. Now go to some table and sit down on a comfort chair. Look at the handle just like on pictures. There is a pin that you have to pull out. I'm using tiny L Key to push it out.
4. Release the long lock hook from the handle body and then disassemble the spring from the handle.
5. Using a screw driver, push out the lock pick from handle body.
6. Now you have a lock release from the handle body. Look at the lock. There are some pin come out from the lock body. Try to insert your key. The lock pin should going inside the lock body. If not, lubricate them using grease of WD-40 until the pin lock can come in and out with the key pushed  in and pulled out.
7. After the lock pin fixed and work nicely, now see this big hole on the handle body. Some dust or seed can make this hole dirty instead the key cylinder body. Clean all up first with carburetor cleaner spray until there is no old grease on the surface. The re-grease them.
8. Insert the lock body back to handle body with gentle. Don't forget the upside and down side of the lock. Refer to my picture.
9. Put all back to their place. Reassemble just like removing at the point 3 and 4 above.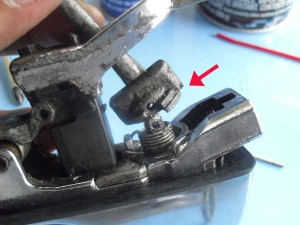 10. Put the lock handle body back to the door, NOTICE the picture that you must put the long lock hook back to the place.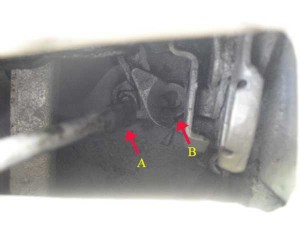 A = lock hook
B = lock hook place inside the door
FINISH!
Now you can lock and unlock your door, and happy ever after.
Fixing My Mercedes-Benz W123 Door Lock (DIY-Repair)