Today I'm so satisfied for doing fixing my own Mercedes-Benz W123 steering lock. I'd been searching on the internet how to remove a whole key assembly set, from the steering. But I found nothing. Just how to remove a stuck broken key on the ignition key hole. My only help I found just a manual book on the internet that helps showing how to remove step-by-step. But no body posting about this removal experience.
So, now I represent my own experience, and solving my own problem. My steering lock starter switch has loosen from it housing. This makes my key doesn't work at all.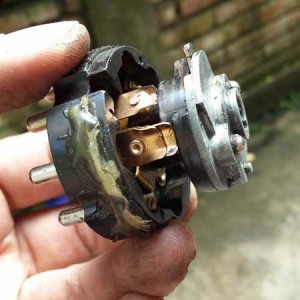 Here the step-by-step:
Download the e-book file about steering lock from my files collection.
Look at the square mark that I circling with red color. That is the place you put the direction of the steering switch.

Then put the steering lock switch housing to the steering lock assembly by screwing back three bolt.
Finish, back to the e-book and follow the instruction for putting back the steering lock to the car.
DIY Repair – Mercedes-Benz W123 Ignition Steering Lock Key Assembly